Jess
What if Dorothy found an alternative route to the Emerald City?
I want you to think of the film 'The Wizard of Oz'. Did Dorothy really need to follow that yellow brick road to get to the Emerald City? If you've seen the movie, you'll know that around the palace there are luscious green meadows, a cliff, forests, and we don't actually see what is at the back of the palace. Stay with me...I do have a point to make!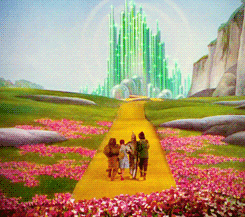 Dorothy could have walked through the forest or climbed down the cliff and she still would have arrived at the Emerald City. She chose the most common route that I imagine many others had taken – and that worked out alright, but let's say for argument's sake she was colour blind therefore unable to see the colour yellow and differentiate the yellow brick road from other paths. In this instance, she may have had to take another route.
Now think about the career you want. Do you need a degree? If your answer is yes, let's explore the following questions together:
1. What happens if you want to go to university, but you don't have the grades?
2. Do you need a degree to have a 'successful' career in STEM?
If you haven't already, go and read my previous blog post Against the Grade. I didn't have the grade requirements for ANY of the degrees I was interested in applying to, so I took an alternative route.
If you find yourself approaching the end of your time at school and you don't have the requirements to get into university, it means that you now must come up with another route. It could be working during the day and doing night classes at school/college, an internship, work experience and shadowing someone in the field, an apprenticeship, going to college to study, for example, an HNC or HND.
Abbreviations of college courses
Don't underrate the value of qualifications or experience other than what is offered at university. University is considered by many as the only way to guarantee yourself a successful career in the future. There is this universal shame in not studying at university in order to pursue a career in STEM when in fact there should be no shame in this at all. In my previous blog I highlighted the pressure we put on young people to be the best of the best, and that the only way to achieve this is to study at university - this is not the case.
Apprenticeships are an amazing way to learn while on the job. Similarly, a lot of college courses are very practical, providing you with the skills you need in your future careers. There is no shame in taking an alternative route to get into university or not going to university at all!
To now answer my first question. You want to go to university but don't have the grades, what can you do?
If you are determined to study at university, the first thing to do, even before you receive your offers, is to look at what courses are good backup/plan B options. This means that if you are declined from your chosen courses then you know which courses to look for through clearing. The backup courses could be other university courses or they could be college courses.
Below I have listed some of the STEM-related courses offered in colleges throughout Scotland. Achieving any of these qualifications is a step towards that university degree offer.
- Forensic science
- Applied bioscience
- Biotechnology
- Aircraft engineering
- Biomedical science
- Food hygiene
- Cyber security
- Agricultural science
- Pharmacy studies
- Psychology
- Computer science
- Nautical science
- Health science
- Horticulture.
And the best part is, successful completion of these courses opens SO many doors for you, whether that is continuing to university or starting your career. I now invite you to search for colleges and search through their courses. I will be the first to hold my hand up and say I was not aware of the variety of stem-related college courses offered in Scotland alone.
Typically, successful completion of an HNC or HND can grant you entry into the second or third year of a university degree, respectively. Speak with the admissions department at the university you are interested in applying to and ask what college courses are specifically suited to gain you entry into the degree.
Graduating with an honours degree in agricultural bioscience at SRUC
If you don't have the grades to get into an HNC or HND then consider an NC first, I started off studying an NC in animal nursing and worked my way up to a PhD!
A side note - if you are aiming to study anything at university that is heavily science-based (e.g. microbiology, animal science, or anything involving working in a lab), HNC/HND bioscience and biomedical science are the best options. During my HNC and HND and SRUC (Scotland's Rural College), I learned a wide range of laboratory techniques and tests. Look through the images below to see some of the cool work I did!
Have you ever considered doing an apprenticeship? I was unaware of all the different types of apprenticeships offered in Scotland! There are various types suited for different levels/ages: foundation, modern, and graduate.
Foundation apprenticeships are gained during your time at school. Modern apprenticeships involve working towards a qualification with a college while being employed. Graduate apprenticeships are full-time employment while gaining an honours or masters degree.
I've listed some subjects available with STEM-related apprenticeships in Scotland below, and you can find out more information on what apprenticeships are available from https://www.apprenticeships.scot/.
- Agriculture/aquaculture/horticulture
- Engineering (civil, rail, electrical, land, manufacturing & design)
- IT software & development, information security, data analytics
- Life sciences
- Printing industry – 3D printing.
Finally, to answer my second question, do you need a degree to have a 'successful' career in STEM? The short answer is NO!
To keep the long answer short, it depends on what exact career you are aiming for. Some careers do require you to have an honours degree at a minimum, so you have to decide if you want to work your way up via an alternative route or find another career that doesn't require a degree. Either way, do what makes you happy!
Remember, if you have not achieved the grades required for your desired degree, enquire about colleges and apprenticeships. Don't be defeated by a university decline, take it as an opportunity to reach your goal in a different way. You never know, you might even discover it was the best thing for you and you don't even need nor want to continue to a degree!
So getting back to Dorothy, she could have found another route to the Emerald City, it may have taken twice as long, or may have been the same length as it would have to follow the yellow brick road. But in the end, she would have arrived at the gates regardless and later made it back home to Kansas safely.
Your path may not be the 'direct' or fastest route to a certain career, but wouldn't life be boring if we all took the same route?